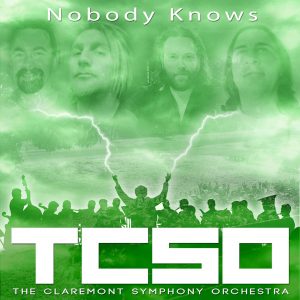 The third in a "once a month or so" series of tracks from TCSO, a hard rocker called "Nobody Knows", which sees the founding members of The Feckers reuniting for the first time since that album's release in 2013, with lyrics here being written by Richard Anderson, and the music by Chris Szkup.
Featuring Mathew Szkup (guitar), Rob Lundgren (vocals) and Dennis Leeflang (drums and mix) alongside Chris Szkup (guitars and bass), this song was once upon a time going to be included on a 2nd album by The Feckers, however when those plans were halted due to life getting in the way, Chris was very keen to still have the song be heard and released, especially with a new ensemble that he felt could do good justice to the track. The rhythm guitar track on the left hand side is Mathew Szkup, while on the right is Chris, which is "a mark of respect" says Chris – it seemed like when we were growing up that all the great rhythm players in the metal bands we were listening to would usually be panned to the left hand speakers, and anytime a riff would "break down" to introduce a song or so forth, it would always be panned to the left hand side. "As I owe a great deal to my brother in terms of rhythm playing, it felt right to have him panned left on the songs he plays on" says Chris.
Once again, mastering on this track was done by Andy VanDette at Engineroom Audio in NYC, while artwork was done by Dan Verkys.