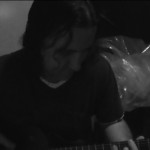 Hey all! Thanks for clicking on this thing! What to say about myself? I'm a shy guy so I struggle talking about anything, especially if it's myself, but I'll have a go, just for you!
Some thoughts that might be relevant……I started playing in 1990. My late mother Irene Szkup was huge in getting behind the idea of me playing guitar. I wrote my own riffs and melodies almost as far back as I can remember, and luckily my older brother Mathew Szkup (Skube) also took to the guitar around the same time as me and we basically learned together and still play together to this day. I must say that he's my favourite musician to play with in the world too!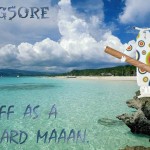 My first band (Jigsore), and first recordings in a studio both happened in 1994 and I was hooked for life. Jigsore recorded it's own songs as well in the studio from 1996 – 98, with a semi released album called "Eat Pop Slop" and an appearance on a local compilation CD "River Rock" and many gigs of both our own stuff and Megadeth tribute nights among other things. During 1998 I also played in an acoustic duo called Velvet, gigging 4 times a week around a day job and releasing a self funded 8 track demo tape that was self titled also.
1998 saw me trading a few emails with a lyricist from New Zealand by the name of Richard Anderson, and we wrote a couple of songs together but didn't really have any money to bring them to life. We kept in touch though and appreciated each others work.
In 1999 I had the next sessions for my solo music which included the first version of "From Within" over February and November. These sessions, although not released for the most part were extremely liberating and confirmed that I really had to make my own album at some point.
From 2000 – 2004 I had played with some cover bands playing many gigs all over Tasmania, but found the original stuff was a lot more interesting to me and I would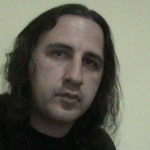 eventually leave those bands to focus on my own music. I struggled to find the right team and also didn't have required money for that to happen, so I decided I needed to relocate to Melbourne where I planned to find work that would allow me to fund my music. Of course as soon as I left, Skube had heard my song "Innate Self Destruct" and said he "knew this guy with a studio, would drum on that song and would also pay for it to happen if he had to". This was the early seeds of my solo album "Pieces of Eternity", which was recorded in Hobart where I would fly back and forth to sessions with what little money I had then. I've worked at Red Planet Recording there ever since with Mr Stew Long and his son Jake. A complete winning combination and the one I was always looking for, and that never would have happened if not for my brother!
In 2005 I had also started playing solo acoustic gigs, haven taken up singing on my own songs, really just due to never being able to find a reliable vocalist. This was a new side of music I really liked, but I still enjoyed the heavy stuff also. My first album ended up being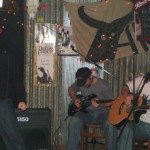 a mixture of a few different styles, with heavy metal / rock, folky acoustic music, instrumental guitar music and the odd vocal ballad too. At the time it seemed like bands were all putting out albums with 12 tracks that were all the same. I much preferred something like Queen's albums from the 70's which would jump around quite a bit stylistically. I had the thought that my album has to have that vibe to it from song to song and I can't give a crap what people may think – I just have to do what I'm feeling, which is what I did. This has been the path I've been on with my solo music since.
After it's release in 2009, now having a steady job to fund more music, I quickly thought about what the next thing might be that I wanted to do. One was to do more of my own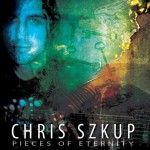 music as I had heaps of it! So I started some acoustic sessions at Melbourne Records, doing 8 songs that I've been gradually putting out over the last year or so. I also jumped straight into more full band sessions with my brother Skube playing drums with me. These are still underway and will be coming out late this year / early next. But the big one was revisit the songs I had written with the NZ lyricist years earlier, which we had gradually added to over the years. He was a bit suprised but into it, and we pieced together a group of our friends and family from many countries of the world to play with us on what became The Feckers, a worldwide union of rock.
We chipped away on close to 20 of our best songs having found an amazing drummer Dennis Leeflang who was up for playing with us and had the abilities to play anything we could think of with a minimum of fuss. Being such a mammoth task, recording took a few years. Eventually we ended up with too much material for an album, so we released a series of singles in 2012, with the album having been released in 2013. It was self tracked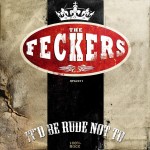 with additional tracking been done at Melbourne Records and Red Planet Recording, and marked a real milestone for me personally as I got to have a musical hero, and I can now say friend, Ron Thal playing on there alongside all the other fantastic musicians from all over the world. Getting that opportunity to try to keep up with him was something I'll never forget and always be grateful for!
Since "It'd Be Rude Not To" came out, we've recorded a medley for a tribute album to Ohio rockers The Godz, as well as a cover of the KISS song "Heavens on Fire", both of which are due for release soon at the time of writing.
We also had our 4th single "Music Keeps Me Sane"  come out, and I also released the remaining acoustic songs from my "acoustic sessions" started at Melbourne Records a few years ago, including a tribute song to my late parents Bysh and Irene, called "Like Yesterday".
The plan for this year is to have 13 songs come out in a set of 3 digital EP's and recording is well underway on them. These will hopefully include full length videos like I've been doing with my singles recently, and will be available for purchase as well.
Thanks for reading, and I hope you'll keep hanging with me here. There's a lot more to come! Feel free to ask me anything that you'd like to know which I haven't covered!
-Chris
(Jan 27, 2014)