Introducing The Claremont Symphony Orchestra (TCSO), with the new song "Ride"!!!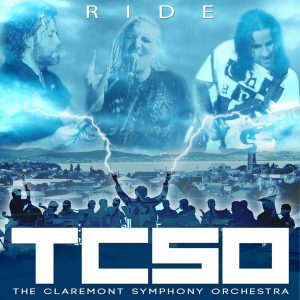 The first in a "one a month or so" series of tracks from TCSO, or The Claremont Symphony Orchestra – the baby of Australian songwriter Chris Szkup, featuring core members Dennis Leeflang (drums) and Rob Lundgren (vocals) along with himself, as well as guest players on certain tracks, so far including Mathew Szkup (guitar) and Paul Jolley (piano), with possibly more to come. This song, and I hope all of them will be, was mastered by Andy VanDette, while the artwork was done by Dan Verkys.
Due to the geographical distance between the members and the guest players on some songs, Chris felt it necessary to adopt a "collective" type name for the project, and at the same time wanted to use it to pay a little nod to where he grew up in Claremont, Tasmania – it's meant to indicate in a way that as these songs were for the most part composed by him, these songs were born in Claremont. Some of them literally were.
All of these songs will gradually be revealed as time (and finances) allow, and when complete, will form a "collection" type album which will be available on the usual digital outlets and on the store at www.cs-songs.com however until completion, the best and fastest way to purchase the songs as they are released will be via the bandcamp site. You also have the option to throw in a little tip if you desire and pay more than the listed price for the song. This will help future songs be released faster, however this is completely optional, and you can even just listen to the songs in full for free and not buy at all – up to you!
GIGS:
For a while I've been wanting to throw myself in the deep end a little bit and play some piano live. I had done it very briefly one time earlier in the year, but September was the time that it REALLY finally happened. I had two weeks in a row of playing a piano set at Compass Pizza in Brunswick back to back with a guitar set at Whole Lotta Love, just up the road also in Brunswick. Check out some pics and video from both nights below.
(So far three gigs are confirmed for the month of October, solo, duo and band – waiting on the word before I can announce the details on them!)
"Cool Dry Place" (Traveling Wilburys) Sept 13, 2017:
https://www.facebook.com/cs.songs/videos/10155695973659921/
Snippets of whole set – Sept 06, 2017:
https://www.facebook.com/cs.songs/videos/10155684022689921/
"Lost Soul" (From "Pieces of Eternity"):
https://www.facebook.com/cs.songs/videos/10155683908304921/
"Slackers and Wankers" (The Feckers):
https://www.facebook.com/cs.songs/videos/10155682023894921/
"Far From Done" (The Feckers):
https://www.facebook.com/cs.songs/videos/10155680744469921/
GUEST SOLOS:
Sometimes from time to time I might get asked to play a guitar solo or two on a song that a friend is putting together. I'm always honoured that someone might think of me in this regard, and therefore it's basically always a "HELL YES" when people do ask. There is no slacking off with any of your "comfort licks" cause a fresh set of ears will always pick up on this, which makes doing guest spots a very cool and fresh thing to do whenever you get the chance. So if anyone ever reads this and thinks I might fit on a song they are doing, please ask! Here's some vid doing solos for The Calm Before – sometimes you're lucky enough to just hit record and go for it and something happens, which was the case here.
https://www.facebook.com/cs.songs/videos/10155628502019921/