Just realised it's been a while since I made an update here, so for all 3 of you, here's a new update for October!
The biggest news on this note is that, after several productive sessions over the last little while, I can report that there are 6 tracks that are totally complete – mixed, mastered and everything, and there is a 7th track to be mixed over the next little while.
Sounding beyond what I could have ever hoped for. Really bloody happy so far – and that has always been the key behind making these songs. Finally I was gonna do some music that wasn't rushed or limited by anything whatsoever, and it's great to be doing it I gotta say!
On my last visit to Red Planet, we started what will be the final tracks for the album, so essentially, we're looking at 10 tracks all up. Dale Brewer who has been on the 4 string mother funker on everything thus far unfortunately wasn't able to make it along this time, but all up plays on 7 out of the 10 tracks.
During these final tracks Skube (my Bro, and also the skinsman on this thing, not to mention his many many other contributions) 'Phill Rudd-ed' the shit out of a rock song called 'First Blood' – totally slammin all the way which was just what it needed.

VIDS from the studio – October 08: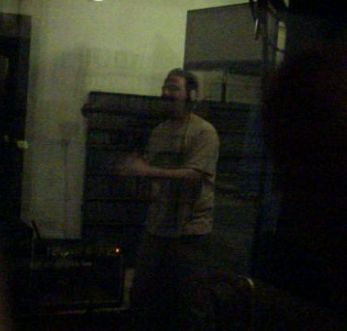 These are some of the songs that will be on there :
(I Can't) Start Again
Innate Self Destruct
Tribal Eat Pop Slop
To A Scream
Lost Soul
Soundtrack (To Snail Racing)
First Blood
(More to come – audio, video, remaining titles etc)

Speaking of drums, I recently got myself an electronic set for the house, which has been awesome demoing up ideas on. Been on holidays the last week or so, and I'll start drumming at 8am most days – can't always do that with a regular kit haha
Anyway, that be it for now you three. Hope you enjoyed the update, and that you'll stay tuned for further ones.
Album is kicking arse!!!!!!!!!!!!