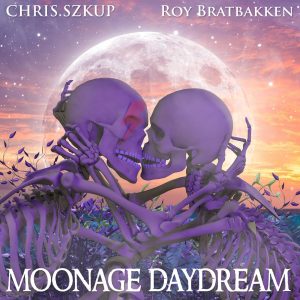 A cover of the great David Bowie song, written of course by him, originally appearing on the album The Rise and Fall of Ziggy Stardust and the Spiders from Mars from 1972.
This release is dedicated to Dan Verkys' father, who is currently recovering from a stroke. It came about when Dan was starting to get the itch for a new exhibition of his amazing works, and mentioned the idea of having some music tied in with it, and this song quickly came up being a favourite of his. He mentioned that as great as the original version is, he could hear a heavier version of it in his head. No blast beats or death metal grunts, but just an overall bigger amount of "grunt". Neither Chris nor Roy were familiar with the song unfortunately at that time, but definitely up for the challenge, and adding grunt is pretty much what they do in their "Dungeon Sessions" songs, so it was a goer!!
Vocals – Roy Bratbakken
Guitar, Bass, "Drums" – Chris Szkup
"Mixed" by Chris Szkup
"Mastered" by Roy Bratbakken
Artwork by Dan Verkys
Roys vocals recorded at The Dungeon, Skedsmokorset, Norway.
Chris' guitars, bass and "drums" recorded at CS-Songs, Melbourne, Australia.
Grab it for free right now from The Bandcamp Store (or stream it below, but we reckon you should download it damn ya!!), and make sure if you're in Victoria you get along to see Dan Verkys' newest Exhibition "Archipelago", launching at The Mad Gallery on Sunday June 10th. More info at his site, and the Facebook event is here.
We hope you enjoy listening as much as we did recording it!!