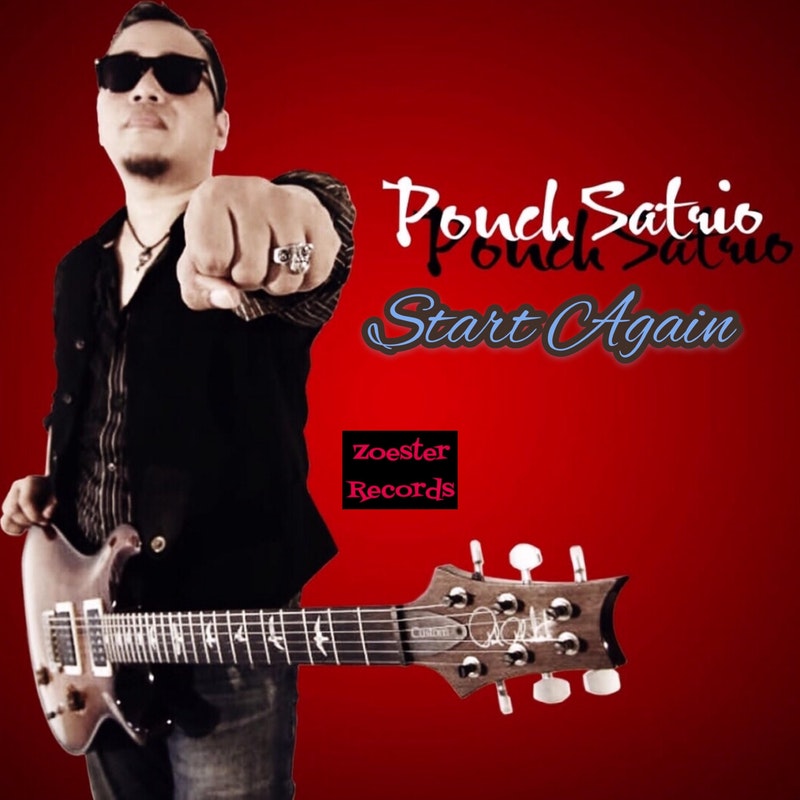 I proudly own Ponch Satrio's two previous albums "Get The Vision" (2010) and "Guitarville" (2011) and am a huge fan, but having been lucky enough to work with the man himself over the years, and also having met in Jakarta in 2017, I had occasionally heard bits and pieces of his music that were more vocal oriented (including the 2018 single release "Forever" which also appears here) than those albums, and really liked what I heard and hoped for more. And make no mistake, this isn't to take anything away from those albums – they are incredible, and as a guitarist Ponch Satrio is one of the modern day greats, but as mentioned, I always hoped to hear more stuff with him lead singing on his music as well. So when I got the news that the new album "Start Again" (released May 2019 on Zoester Records) was going to be a vocal album, that certainly made me very happy.
Pleasingly, he handles this situation extremely well, providing great memorable lead and backing vocals for all 10 songs on the album, as well as playing all of the instruments aside from drums, which are played by Kevin Dwi. The production is crisp and modern but definitely still very real with a rawness to it, self tracked at his own Watermelon Productions, with Angga Irwan handling mixing and mastering.
It could be said that the album shows another side to what we know of Ponch's music, but it is another side that is completely a part of his overall picture, and feels just as natural as his instrumental guitar work from previous albums. The album is just full of great hooks and melodies, and is very well composed with the song overruling everything else.
The guitar playing while very "hooky" also still has a good amount of heaviness and cool riffs (the intro to "Wicked World" for example) to go along with the great textures and layering in the parts. It also should be noted that while there is some ripping guitar playing (especially the solos of "Tell Me When It's Over," "Emptiness" or "Wicked World") it absolutely never outstays it's welcome. When you have chops for days and know so many amazing licks that you run your own Guitar Dojo (true story! – Ponch really does run his own school in Jakarta, Guitar Dojo), and I suppose even if you don't have chops for days, or run your own Guitar Dojo, the secret is knowing when to use those licks, or more importantly knowing when NOT to use those licks. To quote a former teacher of mine and great man, "it's like sprinkling salt" – too much of it and the whole thing is ruined and there is no going back. None of the songs on "Start Again" have had too much salt added to them. Fans of The Foo Fighters and most definitely the "Normal" album by the great Bumblefoot will definitely find a lot to like about these tunes, as well as rock fans and music lovers in general. Listening to the songs I can feel the soul of the lovely guy who created them, and that is what it's all about.
Favourite songs – ALL OF THEM!! Perhaps a special mention to "Wicked World" for the heavy intro and ripping solo, but honestly all of these songs are extremely well written and performed, and I feel they are best consumed as part of the overall picture. We may be able to purchase songs as singles very easily nowadays compared to the past, but let's get back to listening to full albums. Like this one! Crank it!