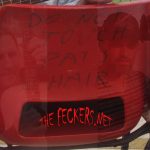 So who are these Feckers that we're on about then?
Well it all began in the late 1990?s on a Brian May email list where a Mr Richard Anderson from New Zealand, and a Mr Chris Szkup from Australia used to post often due to their love and worship of the great band Queen. Richard at the time had been writing lyrics for the majority of his life and was then trying to put together some online collaborations, while Chris had been playing in a couple of bands in Hobart, Tasmania, but had also just done his first round of solo recordings, and was moving away from the band thing for a while to get time to fully focus on his own music. Neither of these guys are what you would call "typical", as further reading of this site will reveal in no time, so when the day came that one of them made a cheesy gag on that previously mentioned email list, of course the other guy was right there laughing and probably doing some metal horns while other folks on that list were saying "please stay on topic guys".
So this banter over time grew, and led to correspondence outside the list, and both guys realising that each other had quite a lot of musical ideas in common, and maybe they should look at seeing what they could come up with. And that's exactly what happened. The first track was written shortly after and demoed in very rough acoustic fashion as were a few others quickly after, with the plan of having them recorded definitely in the guys thoughts.
While the reasons are many, and far more complicated than we would like to put you through here, unfortunately as sometimes is the case, the planets weren't going to align and have that happen so simply……YET.
After some re-evaluation the guys decided to leave their still growing catalogue of co written songs for now with a plan of "nailing them when the time is right".
Some years passed, with Richard finally getting to have his online collaboration vision realised, which led to the band GONE WILD with his good friend Rob Smith, and Chris answering the call from the big city relocating to Melbourne, Australia with the vision of finding a way to make money to fund the making of music. The guys kept in touch over this time, always keeping each other up to speed with where they were at, still occasionally writing more songs together – one even in the futuristic manner of using MSN, which was a long way from the sending handwritten lyrics through the mail, then email that the guys had started off doing.
By the second half of the 00?s, GONE WILD had released two albums, and Chris' own debut album was also coming out, and the question for both the guys was "what's next", with Chris even during the creation of his "Pieces of Eternity" album, getting a real inspiration for this new situation of having his songs being able to come to life, being drawn back to those early co written songs with Richard in a big way, and maybe as easy as 2007, deciding that he'd finally like to revisit them and see them tended to the way they deserved to be. Luckily Richard was totally up for that as well, and some re-demoing began in 2007. It was on!!
Due to the circumstances around their meeting up, the guys figured it would be a nice idea to have some other musician friends from around the world possibly join in on their efforts when it was to happen. In some cases it was even a matter of the guys getting the courage to ask some of their musical heroes to possibly come on board, but not even really expecting any kind of response. Pleasingly, the cliche "you don't know unless you try" is absolutely true, and the forthcoming album "It'd Be Rude Not To", features some musical heroes to both Richard and Chris, and they were definitely honoured to get the opportunity to "bring it" with people they look up to so much musically. The album has grown from that initial idea to feature guests from all around the world – friends, family in some cases, family of other guests, significant others etc – it's a real tight group of great folks banning together to make some hopefully great rock n roll. A brotherhood and sisterhood in rock!!
The next part of the puzzle – what to call this thing? Luckily for a quiet guy like Chris, who would tell you himself doesn't find the whole naming of songs or bands natural, Richard Anderson is never short of an idea where words are concerned. At some point in the past, it was joked upon to have a project called The Fuckers, which seemed hilarious, but at the same time, a little too distracting, and hard to have as anything other than a pisstake punk band, so it was eventually scaled back to be The Feckers, which is also a bit of a Father Ted reference – that was another big part of the project – the wearing of influences on the sleeve.