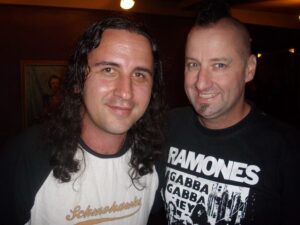 Back in 2022, I remember getting a message from my friend Dan Verkys regarding a bunch of amazing new stuff he had coming in the near future, which included a book called "Infinite Black" which he was co releasing with poet Jeff Oliver. He had the very cool idea of an audio soundtrack to go with the book and wondered if I might want to be a part of it. While I wasn't sure how it was going to work, if this fine fellow comes your way, the immediate answer is "OF COURSE"!!!
So as it turned out Dan was well on top of things and had been experimenting with things and had created these awesome digital soundscapes that would make the basis of the tracks on "Infinite Black Audio From The Abyss". The idea was for me to add bits and pieces to what he had and we would see where we end up. I had never really played stuff like this before, although if you know my playing, you will hear pretty quickly that it's me on there! The other thing was that, especially being new territory, I was very mindful of going on a weird trip and getting carried away with something that might not necessarily fit the concept of the album. Dan was so great with everything though and encouraged me to go off on those trips if they looked like happening!! What a pleasure!!
We didn't quite manage to get it out at the same time as the book due to things being really crazy on my end at the time of that release, but again Dan being Dan, was so amazing with everything and assured me it can come out when it comes out, no stress and all that. We've worked together on things since 2009, but this is the first time it's been a musical collaboration. I'm excited for everyone to hear it!!! And don't be suprised if more stuff like this happens in the future.
Please check out the book and audio releases if you can. What an honour to be a part of it!!!
Hardcover – https://www.lulu.com/shop/jeff-oliver-and-dan-verkys/infinite-black/hardcover/product-rpym66.html?q=Dan+Verkys&page=1&pageSize=4
Paperback – https://www.lulu.com/shop/jeff-oliver-and-dan-verkys/infinite-black/paperback/product-r5e9m6.html?q=Dan+Verkys&page=1&pageSize=4
Album – https://cs-songs.bandcamp.com/album/infinite-black-audio-from-the-abyss